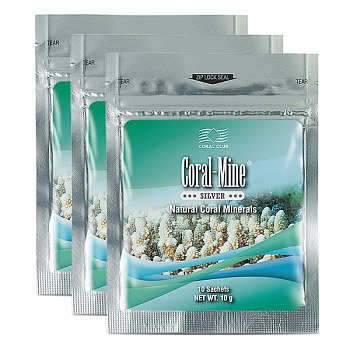 Price

Composition:
Crushed coral - 994 mg.
L-ascorbic acid - 5 mg.
Silver - 1 mg.

"Coral-Mine" / "Coral-Mine Silver" is a product that is produced in Japan from deep-water coral scleractinia growing in the Sea of ​​Japan, near the islands of Okinawa and Tokunoshima. Coral is a unique substance in which more than 500 million years of existence achieved perfect harmony of the animal, plant and mineral worlds. This amazing creation of nature combines several material forms at once: it is a sea animal with a bizarre outline, resembling strange plants, but it exists at the expense of sea salts and feeds on marine organisms.

The coral skeleton is a complex of mineral salts, which determines its mineral properties and effects on the body. Basically, these are calcium and magnesium salts. It also contains potassium, sodium, iron, phosphorus, sulfur, silicon, chromium, manganese, zinc, and other elements. This rich complex of natural salts has a regulating effect on the mineral balance in the body, and therefore, normalizes the activity of vital systems and organs.

Action of active components:
Calcium together with phosphorus forms bone tissue, is a building material for all connective tissues. It supports stable cardiac activity, nerve conduction and muscle contraction, increases the permeability of cell membranes, and normalizes blood clotting processes.

Magnesium Calcium Helper - provides ATP release and increases the body's energy potential, provides a stable heart rhythm, regulates the tone of smooth muscles (vessels, intestines, gall and bladder). A balanced combination in the body of calcium and magnesium (2: 1) prevents the excretion of calcium from the bones, their softening.

Sodium regulates osmotic pressure, water-protein metabolism, is necessary to maintain neuro-muscular excitability and the work of sodium-potassium pump, which regulates cellular metabolism.

Potassium is the main intracellular cation, which supports water-salt and acid-healing balance, neuromuscular excitability; ensures the stability of blood pressure, removes excess fluid from the body.

Application:
When interacting with water, the minerals from the salts pass into the water and give it beneficial properties that contribute to:
- achieving the optimum pH value;
- regulation of blood pressure and heart rate;
- prevention of osteoporosis, arthritis;
- increase muscle elasticity, restore the structure of bone and cartilage tissues;
- regulation of the kidneys, digestive system;
- improve the condition of the skin.